For Businesses
Start making an impact today at no extra cost by enrolling in one of our programs;
Forest Friend
At no extra cost, plant a mangrove tree per item sold or service provided. Fully customizable to fit your business.
Receive an update each month on your total contribution.
Receive our virtual program stamp to display on your product, website, or social media. (Optional)
Forest Protector
At no extra cost, protect the mangrove forests that are still standing. Fully customizable to fit your business.
Receive an update each year on your total contribution.
Receive our virtual program stamp to display on your product, website, or social media. (Optional)
Forest Guardian
At no extra cost, plant mangrove trees and conserve forests that are still standing. Fully customizable to fit your business.
Receive an update each month on your total contribution.
Receive our virtual program stamp to display on your product, website, or social media. (Optional)
For Individuals
We all have an impact on the planet and we can all make a difference. Start today by signing up for our monthly membership or by planting mangroves as a one-off contribution to the planet.
MANGROVE RESTORATION PLAN
For 1 € a day, start compensating for your daily carbon emissions. After 5 years you will have planted one hectare of mangrove forest and compensate for 10 tons of CO2 annually, the average individual carbon footprint.  You will also have conserved 2 hectares of forest for 1 year. Become more sustainable and start planting today.
Choose your compensation amount below.
For those of you wanting to plant mangrove trees, this one-off carbon compensation option is for you. Choose the number of trees you want to plant below.
What are mangroves and why they matter?
Mangrove forests capture up to 4 times more CO2 than tropical rainforests and support some of  the most biodiverse ecosystems of the planet.
Mangroves are a special ecosystem as they are a link between the ocean and the land. The trees are uniquely adapted to grow in highly saline conditions of seawater. Mangroves are often referred to as a forest and while mangroves are shrubs and trees they are actually a wetland. They are periodically submerged by the tides of coastal rivers and the sea.
By planting mangroves you will do a lot more than compensate for your carbon footprint. Mangroves are biodiverse ecosystems and act as nurseries for many fish, including sharks, and turtle species. They foster a rich fauna and offer local communities sustainable ecological and socio-economic environments. This allows for up to 1.8 tons of fish catch annually per hectare of healthy mangrove forest. Mangroves provide additional income for usually very poor local communities. Boys, and also girls, can go to school and avoid being sold into marriage, slavery or sex trade thanks to this additional financial income stream. Furthermore, mangroves increase protection of shorelines and riverbeds against erosion or storm damage and they protect agricultural lands close to sea against salinization.
The following Sustainable Development Goals are supported by our projects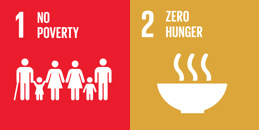 Mangroves are fish nurseries and are home to many edible shellfish.They are essential habitat for global fisheries as approximately 80% of fisheries are directly or indirectly dependent on mangroves. Implementing management and on-going restoration efforts of mangrove forests allows for a more consistent and sustainable fish catch for local communities. This creates a more stable income for local families and also increases the availability of protein sources. Furthermore, mangroves protect coastal agricultural lands from salinization. Mangroves rely on pollinators for survival, this makes beekeeping a viable income stream too.

During the selection process of local partners we strive for gender equality. Planting projects protect local agricultural fields, often tended to by women, and increases their profitability. This in turn creates more opportunities for women to take ownership, become more independent and even start their own businesses. When families have a larger income, more children are likely to attend school. Girls are not married off at young ages or sold into the sex trade. Boys and girls are not forced to stay home to help their parents in the fields or on the fishing boats. People are less likely to get stuck in slavery due to unpaid debts and desperate acts in the hopes to generate an income. Additionally, our project partners prioritise educating the local communities on the benefits of mangrove ecosystems, agroforestry and conservation.

One hectare of mangrove forests can capture 10 tons of CO2 annually. By reforesting degraded mangrove ecosystems carbon dioxide is captured in live biomass or in the sediment of these forests. Mangroves act as nurseries for many fish species in both marine and freshwater systems. Unfortunately, we are losing ~ 1% of mangrove forest each year and have already lost more than 40% on a global scale. Mangrove loss is more rapid than other forest types and they already only make up 0.4% of forests worldwide. These habitats link rivers, forests, seagrass meadows, coral reefs and the open ocean due to their unique ability to survive while submerged by water. They are important players in land and ocean nutrient cycles and necessary for the survival of local biodiversity. Conservation efforts help protect existing forests in regions that are lacking sufficient resources to allow for the survival of those forests. Biodiversity loss happens when habitat is lost and so protecting existing forests is also protecting plant and animal life.
Sustainability is a lifestyle and a life-long process. These programs are aimed at compensating your current and future CO2 emissions as well as helping local communities.
Please do not forget about your past emissions, from birth until now. We impact the environment with everything we do, let's start to make that impact positive.
Compensation does not substitute decreasing the size of your CO2 footprint. It is an intermediate solution that can make a big difference and is an essential step towards a sustainable future. However, we must also change our behaviors and technologies to green alternatives whenever possible.